ABOUT US
Welcome to the Star Merchant a proud member of the Winning Form Group.
The Star Merchant was founded in 2003 in Kwa-Zulu Natal as a supportive procurement and distribution function to one of the larger bookmakers in the country. It has since evolved into a dynamic company that delivers a purpose-built procurement and distribution solution across a diverse consumer base.
Our warehouses situated in Kwa-Zulu Natal, Eastern Cape, Western Cape and Gauteng enables us to optimise organisational efficiency and transform our customers' procurement function through our national footprint.
At The Star Merchant we, recognise the importance of a streamline procurement and distribution process which allows us to collaborate with our customers to ensure the customer receives the most cost-effective and flexible solution to a continuously changing and demanding environment.
We leverage off a trusted ability to source products locally and internationally through our experienced and professionally trained Buying Team. Combined with our capability to precisely co-ordinate the distribution of your products nationally, we have a unique value proposition that will save you time and improve your profitability. The core of our business rests in our aptness to provide consumers with a world-class procurement solution by being a personalised "one stop shop". We leverage off our aggregate buying power, hence as we save our consumers save!
We pride ourselves on building long-term partnerships, by exceeding consumer expectations through obsession, integrity, accessibility and flexibility.
What's in it for our consumers?
The seamless experience of a centralised solution whilst having decentralised operations.
Direct access to a dedicated co-ordinator that understands the consumer's business and specific needs.
Consistent product quality, consistent product brands thereby culminating uniformity across our consumer's operations and enabling our consumers to offer their customers a consistent experience.
No tedious engagement with several suppliers, courier and distribution companies.
Reduced levels of administration and risk associated with the embezzlement of company funds and assets by only engaging with one supplier.
Uniform product pricing across the nation.
No dealings with customs, bonded warehouses, foreign supplier lead times and avoiding the opportunity cost associated with upfront payments to foreign suppliers.
Access to diverse product range and the flexibility to source any specific product.
Elimination of decentralised locations taking kickbacks or sourcing inconsistent product or poor quality product and/or at exorbitant prices.
Customised analysis and trend reporting.
MISSION
To be recognised as a market leader in delivering a tailored procurement and distribution solution that enhances our consumer's competitive advantage.
VISION
To achieve our mission we are committed to:
Consumer centricity.
Expanding our logistics partnerships.
Expanding our warehousing footprint and holding capacity.
Broadening our local and international product offering through strategic supplier relationships and securing reseller/distribution rights for market-leading products.
Shortening lead times and sourcing supplier guaranteed high-quality products.
Sourcing the latest technology and concepts.
Continuously investing in the training and technical knowledge of our team.
Recruiting, growing from within, and retaining team members that are obsessive about service excellence.
Driving innovation and technological advancement.
Maintaining integrity through honest interaction and competitive pricing.
This relates not only to the expectation of behaviours towards customers, but also our team members and other internal or external parties that we work or interact with.It means taking an interest in our customers and being friendly, caring and passionate brand ambassadors. We pride ourselves in the manner in which we engage with others.  We believe in going out of our way to delight our customers by anticipating customer needs. We continuously seek to exceed expectations through being knowledgeable, accessible and helpful in our interactions.
The Star Merchant is passionate in delivering on our obligations and our duties. Making a commitment involves dedicating yourself to something. We have a strong work ethic and remain true to our commitments and promises through determination. We persevere despite challenges and deliver on commitments whether relating to our work, the company, each other, our customers and any party that we interact with.
Integrity is being true to ourselves and never wavering from what we know is right. It implies respect for others, for The Star Merchant and for the environment and communities in which we live and operate. Integrity is about a sense of honesty and truthfulness. It is a simple yet all-encompassing formula for life which says: Be truthful, communicate openly, and do the right thing in accordance with The Star Merchant's values. At The Star Merchant we are honest in our actions and our behaviour. We are transparent in our communication and we do not cover up or hide the truth.
Everyone at The Star Merchant is empowered to think differently and to seek better ways of doing things. We believe that we become market leaders by innovating new products, processes and services. We constantly challenge the status quo, we strive for continuous improvement, we try new things and we learn from our mistakes. We are not limited in our thinking and think in a way that suggests that there "is no box" as opposed to thinking "out of the box".
Ubuntu means "human kindness". It is a quality that includes compassion, humanity and understanding, which enables us to impact positively on each other and society. We are all part of the The Star Merchant family and our culture has always been to create a sense of belonging. Rather than jealously protect, we gladly collaborate and we share a sense of togetherness. We promote co-operation within and across departments and regions to the benefit of the whole. We openly embrace our diversity and take a personal interest in others. We value all contributions, we trust and support each other and share in our successes.
The Star Merchant has an obsession for what we do. We are energetic and we are all ambassadors, not because we have to be, but because we love our brand, what we stand for and how we do things. We have a positive outlook on how we approach our work and work environment and have a contagious energy about us. We are obsessed in achieving what we want to achieve and are driven from within because we are motivated and enjoy what we do. We work hard and play hard and enjoy the rewards of our successes.
Accountability is taking full ownership of all our actions including our mistakes. We are disciplined in our approach and our attitude is always "Can do" rather than "I'll see". We make ourselves accountable and we keep each other accountable. We are part of the solution and we deliver with actions and results.
Black Economic Empowerment (BEE)
Broad-Based Black Empowerment forms an imperative part of our core strategy. Transformation in South Africa is largely governed by regulatory frameworks and legislation. We believe that transformation, as underpinned by the 3 pillars, is key to South Africa's future. We are excited about our initiatives on supplier development, preferential procurement and enterprise development. Our team is extremely grateful for the learnership and management development programmes that we offer through our sister company, The Star Factory. Not only do we focus on equal employment opportunities for all levels of our organisation, employment of females and team members with disabilities forms an integral part of our employment equity plan. 2017 has been a significant milestone for us as we introduce our 30% black female shareholder.
We are proudly a level 2 BBBEE Contributor.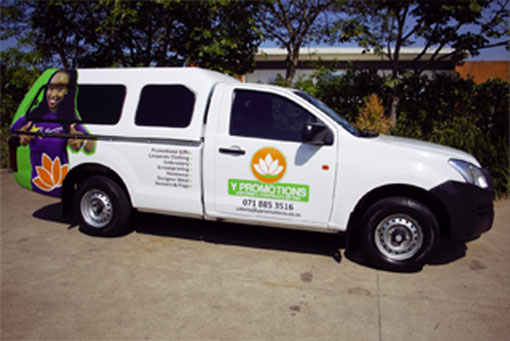 An integral aspect of The Star Merchant's business is it's supplier development programme. Our team has been passionate about establishing Y Promotions as a self-sustaining corporate clothing manufacturer. Y Promotions have welcomed our entrepreneurial advice from the word "go". Providing Y Promotions with the necessary machinery and a vehicle that they can now offer their clients a seamless end to end solution.
"It has been our pleasure to work alongside your company over the past two years. We truly value and appreciate your prompt support in all aspects of growing our company. The Star Merchant has played a pivotal role in growing our company. The support has been phenomenal. We would like to thank you for the branding, office equipment, vehicle and machinery that you have supported us with. Y Promotions has started two years ago with three machines and four employees. We can now proudly say that we have grown to a team of fourteen employees and seventeen machines, all due to the support that The Star Merchant has given us.
We the management and staff of Y Promotions humbly, from the bottom of our hearts, thank the directors and management of The Star Merchant for changing our lives for the better and giving us a chance to make our dreams into a reality." – Sabena Haniff
SUSTAINABILITY
Our goal is to take care of our planet by challenging the extent of our footprint in all that we do. We have contributed to a greener environment by:
Partnering with transport companies that share a similar commitment towards a sustainable planet.
Sourcing product that is ozone friendly and bought from credible suppliers.
Minimising the use of harmful, non-bio-degradable packaging.
Training our team on the importance of our environment and how to execute their job in an environmentally friendly manner.
Being diligent on the use of water, electricity and paper. Implementing recycling initiatives./li>